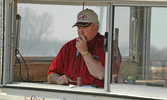 Spring isn't just a time for planting. It's a time for auction sales ... a social highlight that retired farmers, collectors and deal makers are missing dearly.
"People love their auctions. They love the thrill of bidding," says Ken Lillicrop, president of Bryan's Auctions based in Puslinch and Trenton. "We're hoping we can get people on site again in June."
In the meantime, Lillicrop has just launched a revised system for the timed online auctions Bryan's are known for after cancelling all April sales until they could find a safe way to handle money and arrange scheduled, curbside pickups.
"Our sales are usually large with three to four thousand pieces," explains Lillicrop. "On a Saturday, there might be over 1,000 people looking at the stuff." When that happens, most people have the same touchpoints. If it's a tractor or vehicle, they open the door, climb in, and put their hands on a steering wheel. "There is so much touching. There is just no way we could get it all cleaned and sanitized for every customer."
About half of the 20 staff at Bryan's have been laid off.
Fortunately, Bryan's Auctions has 10 years experience running online auctions and was able to resume online sales mid-May. There won't be any physical viewing of the machinery, vehicles or construction items, but staff are adding more descriptive details to the items for sale. All payments will be made online. All pickups will be scheduled.
It might be a stretch to say auction businesses will thrive this year, but most will survive.
"Auctioneering is a business that will survive all tests of time," believes Lillicrop. "There are always people who want to sell and there are always people who want to buy."
However, he admits this has been tough and a lot of extra work.
It's been more than tough for auctioneers that deal with cattle such as David Carson of Carson Farm and Auction Services Ltd. in Listowel.
Carsons had to cancel all their early farm sales that were to be held on the property. When he was able to open the sales ring for a beef cow and calf sale, half the chairs were removed to create safe distances for the 49 buyers who came. Prices were about what he expected with bred cows selling for an average of $1,750 and cow-calf pairs averaging $2,000. A few tender sales also remained on the docket with two property owners happily accepting bids and another deciding not to sell.
"It's been very disheartening," says Carson. "We usually sell a lot of fresh Holstein heifers but they aren't selling right now. Prices are terrible which also means our commission sales are down. It's just not a lot of fun here right now."
A few employees have been laid off and office staff hours have been reduced.
"Everyone is struggling and like them, we are doing the best we can," says Carson.
The sales barn will make it though these tough times. Sales that have been postponed will hopefully be offered in the fall. Carsons also sells animals on private commissions but he knows he will lose customers.
"The people who come to buy one or two animals will go by the wayside and the result will be fewer buyers buying in bigger numbers," believes Carson.
He is thankful for the customers that have stuck with Carsons because he knows it is a very trying time for everybody. "I'm hoping everyone can pull through," he says.
So does Ruth Ann Scott of Yokassippi Auctions and Appraisals in Teeswater, which has not booked auctions for the entire year.
"I am sitting with enough stuff for two auctions right now," says Scott. Ruth Ann and husband Ken usually offer a dozen or so auctions a year but say besides being illegal due to the restriction on large gatherings, most people do not want to be in crowds right now. Online auctions are not being recommended by the Auctioneer's Association of Ontario for estate auctions either.
"People still want to see the stuff and pick it up. I know it's only one person at a time but if they look at it like they normally would, who will disinfect it all?"
Cancelling all sales was the only option and Ruth Ann says she misses it, as do her customers. Yokassippi is a favourite hangout for buyers who love auctions. "There are so few live auctions left and the people who really enjoy them are missing the social part of it. They are missing the food booth too!"
Yokassippi Auctions has been at its Teeswater location since 2006 and had been conducting auctions for a few years before that. Ken is currently in the hospital (not COVID-19 related) and Ruth Ann gives a wry laugh as she admits, "2020 has not been my favourite year so far."
Bill Horst of Bill Horst Auctions in Millbank would probably agree. However, he started offering online auctions last fall and has been relying on this part of his business during the pandemic.
"I've had to cancel or postpone about 12 sales so far. There are a few that can go on in the fall but I'm not sure if public auctions will be deemed essential anytime this year," says Horst, who has been an auctioneer in Southwestern Ontario for 26 years.
In his opinion, public auctions are still the way to go to get good prices. "You get people right at the table bidding and then it's my job to convince them to pay more," explains Horst. "When you are actually talking to them face to face, I think it's more effective."
Online sales are a different beast. You can't offer the wagon loads and low-cost items. For his online auctions, Horst focuses on higher-end items such as tractors and farm equipment.
At the time of the writing of this article in May, he had sold 16 large pieces including tractors and tillage equipment.
"What I do is really catching on in the Ontario market," says Horst. He takes the photos and videos, writes a detailed summary of the piece and posts it online.
In the post COVID-19 future, he imagines his business will be 50 per cent online and 50 per cent public auctions.
"There are lot of people out there who LOVE to go to public auctions and that will never change," says Horst. "There are also the people who do not have time to go to an auction and would rather press a button and bid on a piece of farm equipment online."
Personally, having spent most of his adult life as an auctioneer, Horst hopes he can soon get back up on a wagon for a live auction. "I still love doing it. I love to meet the public and sell to people in person and get the adrenaline going."
While, financially, he knows he'll "be behind the eight ball dollar wise" with the cancellation of live auctions, Horst is still hoping he can say at year's end that it was a good year. ◊