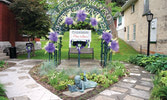 Tour explores Alice Munro's literary influences
Even before Alice Munro won the Nobel Prize for Literature in 2013, fans from around the world were travelling to Huron County to absorb the sense of "Munro country". A self-guided tour of her home town of Wingham lets visitors see some of the locations that shaped Munro's upbringing or appeared in her stories.

The pamphlet for the tour is available at the North Huron Museum on Josephine Street (main street) where there is also a display celebrating her life with photos, newspaper articles, examples of her work and other memorabilia.
Just outside the museum, which was the town's post office when Alice Laidlaw was growing up, is the Alice Munro Literary Garden which was opened in 2002 and provides a quiet corner on the busy street with a bench and a walk with the names of her books carved into marble slabs.
By following the tour, you can see the hospital where she was born on June 10, 1932, the location of the schools she attended, the town hall where she performed in a school operetta in 1946, and on to Lower Town where she grew up.
The North Huron Museum and Alice Munro Literary Garden are located at 273 Josephine Street.