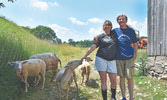 By Lisa Boonstoppel-Pot
All Sorts Acres Farm near Ayton really had "all sorts" of animals and ideas from its owners, Jennifer Osborn and Tim Fisher.
Surprisingly, it was the COVID-19 pandemic that provided the impetus for the life and business partners to become a profitable micro-dairy raising milking sheep to create sheep milk gelato, kefir and yogurt.
During the height of the pandemic, when cities and businesses were shut down, a Toronto magazine ran a story about farms producing homegrown products that were offered online. All Sorts Acres was one of the featured farms.
"The next day, Jennifer's phone started buzzing and we had $1,000 in online sales in one day," remembers Tim. He still feels disbelief how COVID-19 brought focus to a farm that was raising sheep for meat, for fibre and for milk. They enjoyed all three but which one would ultimately become the most profitable? Indeed, the journey to establish a farm in the first place hasn't been nearly as smooth as the creamy sheep-milk gelato they create in their on-farm commercial kitchen.
Jennifer, who studied fine arts, illustration and web design, always wanted to be a farmer. Tim is a mechanical designer working in research and development for an electronics company in Toronto. While Jennifer is the animal lover, they share a combined passion for whole animal farming along with all the ecological buzzwords: sustainability, regenerative agriculture, permaculture, organic and biodynamic.
With these ideals, they rented a farm near Guelph and started building up a sheep herd after being gifted a couple of Shetland sheep, a small wool-producing breed. They believe each species on the farm – from the chickens, to ducks, to sheep – must perform more than one function. Initially, that involved using the sheep as lawn mowers, an enterprise that was all work and little profit. The idea of milking sheep came to Jennifer and Tim after visiting Best Baa Dairy near Fergus.
"That really intrigued me," remembers Jennifer. "What had been kind of a hobby was turning into a lot of work and at some point, we knew it had to become a profitable business with a business plan."
In 2014, their rental agreement on the Guelph farm expired and the couple needed to find a home for themselves and their 50 sheep. It was time to get serious and create a business plan, buy a farm and make some money with value-added products.
So they did. With support from family and grant money, they bought a 50-acre existing sheep dairy near Ayton and began crossbreeding for increased milk production while replacing some of the Shetlands with East Friesians, a breed of dairy sheep. Currently milking 16 sheep, they are selling off the Shetlands but will keep some because Jennifer likes to create fibre art and textiles with the wool.
"We will never be just one thing," says Jennifer. They like to raise animals balanced in their traits,believing it provides the farm with animals that are healthier, hardier and more suited to the climate and their management system, which itself is a reflection of the seasonal characteristics of the permaculture movement.
The sheep are largely grass-fed and given as little grain as possible. Jennifer milks them in spring and summer, allowing them to dry off for the winter months in preparation for lambing. With fewer chores in the barn, winter is when she uses the bulk of the frozen milk to create sheep dairy products in the inspected and certified commercial kitchen located in a separate room in their house. Sheep milk is naturally homogenized so it is common practice for sheep dairies to freeze the milk for later use. The winter is also a time when Jennifer can clean and create with the wool from the remaining Shetland sheep.
Part of the philosophy at All Sorts Acres Farms is that as the farm "inhales" all the richness of air, sunshine, soil and water, it naturally wants to "exhale" food products in a natural, balanced, flowing system.
Until the coronavirus pandemic hit, Jennifer and Tim sold their products at farmers' markets. When the markets shut down, there was some worry about having any sales, much less growing sales. They had a fledgling online store but it wasn't their primary method of sales.
Then came the article, the calls, the sales and the first task was to revamp their online store. Then make more products. Then buy in sheep milk to meet product demand when their own small herd couldn't keep up. They bought more East Friesian sheep. Growth was immediate and almost overwhelming. It helped that Tim's work offers flexible hours and is situated in Toronto. He could deliver products once a week, drawing on past experience working as a cab driver, to wind his way around the city. A nominal delivery fee was charged and just like that, their business adapted and grew.
As they look to the future, Jennifer hopes to increase the herd size to 30 or 40 dairy ewes, which is about what their 50-acre farm can handle. Tim admits they are nervous about expanding right now in case COVID-19 makes a resurgence in Ontario and Toronto goes into another lockdown. "We are trying to be nimble, like when we made the pivot from a farmers' market model to an online model."
It takes a lot of energy and the lawns and buildings are a little unkempt. It's clear there is some catching up to do but Jennifer freely admits that for her, it's all about the animals. She doesn't enjoy gardening. The sheep get fed first, then the people. "Animal welfare is the priority. If I could have afforded to run an animal sanctuary, I would have." She loves the farm too, saying "there is variety but still an overarching rhythm."
Tim agrees. "I am quite happy to be the farm wife," he jokes. "I make the dinner and wait for Jennifer to come in from the barn."
As we walk around the farm, looking at the poultry, livestock dogs, and meet Neville, the bottle-fed "farm mascot", Tim talks about his passion for permaculture (they both have Permaculture Design Certificates) composting and regenerative design. He points out the chickens sheltered under tent buildings in the pasture. They will clear a section of grass but their droppings allow the grass to return twice as lush. Rotational grazing improves the soil and yield while the roving ducks control insects and provide eggs.
The farm has now found its profitable focus but will always be a place of organized chaos as the pair foster a healthy, thriving ecosystem producing food from the soil, raising animals, growing plants and lastly, supporting themselves, the stewards of the land. ◊