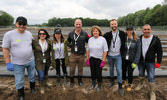 By Jeff Tribe
"This is a first," confessed Strathroy-Caradoc Mayor Joanne Vanderheyden with a smile, deftly inserting a vibrant UltraSour clone into rain-soaked Mt. Brydges-area soil. "I've never planted marijuana in my life."
Mayor Vanderheyden's growth opportunity resulted from a new venture for WeedMD's southwestern Ontario Health Canada-licensed cannabis production facility, heading outside the controlled confines of its hybrid greenhouses into an adjacent 27-acre field.
"There's a lot of big days," said CEO Keith Merker, joining the mayor and other WeedMD officials Thursday, June 13th in symbolically contributing to the effort. "But today is especially monumental to us.
"I never envisioned we'd be here today planting north of 25,000 beautiful cannabis plants on a farm in southwestern Ontario, sitting beside a greenhouse with as many more."
Health Canada opened up the option of external operations last October says Merker. WeedMD is one of four Licensed Producers (LP) nationwide is taking advantage of that option.
"It's a brand new opportunity," he said for a company which prides itself on being at the industry's forefront. "Pushing the needle every day with what we do."
Cannabis' medicinal and subsequently legal recreational resurrection has largely been accomplished inside facilities answering security, climate and environmental control consid-erations. WeedMD does have 610,000 square feet of grow capacity under glass onsite, an impressive full hybrid (glass roofs which can be opened and closed) greenhouse facility which currently has 110,000 square feet of licensed grow and production, with another 110,000 square feet completed and anticipated to be licensed "imminently."
The facility is impressive from separate mom, clone, vegetation and flowering rooms on through drying, trimming and storage vaults, highly regulated, controlled and secured space.
"We have a whole vertically-integrated facility here," said Merker.
It does not take an engineer or accountant to figure out cannabis' specialized zones come with a hefty price tag. Health Canada-approved security measures and in-field irrigation for the 27-acre outdoor site was accomplished within a $2-million budget, far from chump change, but considerably less than comparable indoor capacity infrastructure.
Money flowed more easily in the cannabis industry's heady earlier days, but competition from both domestic and potentially, international sources is encouraging investigating efficiencies in both CAPEX (capital expenditures) and COP (cost of production).
"Cost of goods," Merker summed up succinctly of the advantages of growing outside. "This industry is only going to get more competitive, we'll be producing for pennies on the gram for what others are paying dollars for.
"It's economics, it's scale, speed to market – all these things."
This year's initial Phase I 27-acre planting is structured within five zones, each comprised of strains with similar 10-16-week vegetation cycles proven to excel outdoors in southwestern Ontario. All clones were produced from mother plants onsite, including Pedro's Sweet Sativa, Ghost Train Haze, Ultra Sour, Shiskaberry, Mango Haze and several experimental options to build data on their outside performance. Pending approval, WeedMD plans on adding an additional 73-acre Phase II in 2020.
Merker anticipates this year's outdoor harvest at "north of 25 tonnes", which roughly guesstimating "off the top of his head" would require six or seven acres of greenhouse to equal. The equivalent infrastructure would require considerable COP as well as an estimated minimum of a year to complete.
"It's (growing outside) allowed us to ramp up extremely quickly."
Greenhouse facilities allow year-round production, outside growth is limited to one crop.
"One very large crop," Merker emphasized.
There are additional consid-erations to growing cannabis outside, first and foremost exposure, partially alleviated through irrigation, to the climatic whims of Mother Nature from too much or too little rainfall or heat units, up to extreme weather events.
Cannabis has, however, historically – and recently although largely illegally – been grown outdoors says WeedMD Chief Cannabis Officer and industry pioneer ("legacy" person in its vernacular) Derek Pedro, thrilled with an officially-sanctioned large-scale return to its natural environment.
"This plant is a feral plant. Only the last 90 years has it been held in captivity due to prohibition."
All-female cannabis clones are susceptible to pollination by male plants, says Pedro. Pollen can travel up to 10 kilometres, but he says it would take a large field of male hemp, for example, to cause major issues.
Chemical drift – from a farmer's weed control spraying program for example – is also a potentially negative concern, given Health Canada's stringent regulation of both medical and recreational cannabis. WeedMD's preventative measures include a woodlot which buffers the field on three sides, along with the production facility and a cornfield adjacent to the facility's access road.
Physical defences are backed up by a highly-capable and experienced quality assurance team Merker has full confidence in.
"There are risks in everything in life. Our job is to mitigate every risk. I believe we've done a good job of that."
Canada's industry also faces similar concerns to other commodity groups from imported product which could be produced in cannabis-friendly climes, with cheaper labour and potentially less regulation.
"No one is talking about the products they'd have to use," said Pedro. "This is going to ensure we can produce for pennies on the dollar in the most highly-regulated country in the world."
Pedro admits he never thought he'd see recreational cannabis' legalization and is proud to produce plants he extols for a synergistic combination of cannabinoids and terpenes. The process has been a struggle, Pedro added, taking years for acceptance to overcome negative connotations and allow Canadians to utilize the plant's beneficial properties without shame, either in the medical or recreational realms.
"I still call that preventative medicine," he smiled of the latter.
Mayor Vanderheyden's participation at the official launch indicates cannabis's acceptance progression. Appreciative of both the ingenuity and employment within WeedMD's facility, she says legal (licensed, Health Canada-approved) cannabis production can be a welcome portion of a municipality's broader economic landscape.
"We've got lots of employees and lots of opportunities here. We need to move forward with it and help out where we can."
There are concerns surrounding the cannabis industry, including odour and lights, which must be addressed. But there are concerns with any industry Mayor Vanderheyden continued, noting her municipality is a rural/small-urban mixture.
"I live close to turkey and chicken barns."
Historical stigma may be attached to cannabis, but she believes progress can be made through collaborative effort.
"We have to make sure we are all engaged in the process and that we understand the good that can come out of this industry."
Lindsey Wolf is familiar with the concept, quite literally at ground level. A member of the transplanting team, Wolf's father hails from nearby Strathroy, her mother from Aylmer (site of WeedMD's processing, packaging and newly-constructed extraction facility), with both previously involved in the tobacco industry.
"It kind of feels like my legacy - next generation," she smiled. "Love it," she added. "It's hard work, but very satisfying."
Following graduation from school she lived for five years each in Vancouver and Toronto, working with composition and extraction in the cosmetic industry. Beyond planting, Wolf's current duties with WeedMD include a 'little bit of everything'. From her perspective, WeedMD is an equal opportunity employer, roughly 50/50 men and women, with opportunity for advancement.
"Hopefully when the other stuff opens up, I'll be able to get into my field of work with extraction."
WeedMD employment has allowed her to return home, part of a cannabis-related rural Ontario economic upswing she believes extends to local businesses and real estate.
"It's helping a lot of small towns in the area."
With a family member utilizing cannabis following an MS diagnosis, she has a personal appreciation for its medical benefits.
"It can help with so many different ailments."
But she is also a supporter of recreational cannabis, doing her part to banish any "lazy stoner" stereotype.
"There are always going to be some people who look at you twice, especially coming back to a small town," Wolf concluded. "But I believe it's changing minds with kindness and patience." ◊